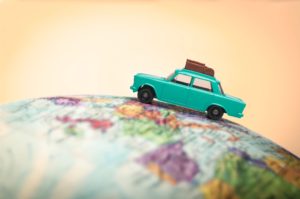 We workout and eat healthy, and for the most part keep our health in check, then vacation comes up and we can get completely thrown off!  For many, vacation can seem scary because we lose control over our food choices and exercise routine.  The fear of falling off track or gaining a few pounds are common worries among many, so I'm going to help with a few tips on exactly how I handle my food and exercise while traveling!
First off, we have to know and be OKAY with the fact that we aren't in total control when traveling (or really anytime in life).  To be honest, often times a little travel and relaxation can help with fat loss!  Wait, what?!  YES. . . it's true!  If you're like me and a little Type A when it comes to your health, letting go and doing less can actually help shed a few lbs. due to lowered cortisol levels!
These lowered cortisol levels occur due to less stress. . . no alarm clocks, no scheduled exercise, no work, and no kids' schedules all create a less stressed environment for the body.  So take it from me. . . use vacation as a time to relax and reset your body for even better results.
This doesn't mean splurge on everything and be lazy!  It means stress less by doing less exercise and letting go of your normal routine.  The body needs a little hormonal reset sometimes, and this is the perfect time for that!  It's also a good time to "trick" the metabolism by doing things differently than you normally do!  Our metabolism will constantly adapt to what we're doing, so we have to change things up!  Don't wake up to your usual alarm clock and don't do your normal workout routine.  If you wake up everyday at 5am to go for a run or do an hour workout, sleep in!  Wake up and go for a leisure walk or bike ride instead, or do a quick 20-minute metabolic conditioning style workout.   Do you normally eat 5 or 6 times a day?  During vacation, cut back to just 3 or 4 meals a day.
My BIG piece of advice is don't throw all your good habits out the window when on vacation.  Instead, stick to some BIG ROCKS that make the most difference.  If you go into vacation thinking you can eat anything and do nothing, then you will likely gain some weight and have a hard time getting back to your fitness/nutrition regimen when you return home due to a major imbalance of hormones and other factors.  It's all about finding what works for you!
THINGS I STICK TO:
  Eating lots of protein and produce
  Drinking tons of water and BCAAs
  Moving EVERYDAY (whether a workout or just a walk)
  Sticking to just a few "bites" of the sweet treats so I never feel deprived
ITEMS I PACK (some dependent upon having a microwave/refrigerator):
BCAAs and my Blender Bottle
Protein Powder (I can blend in my coffee or oatmeal or with plain water)
Protein Bars
Oatmeal
Cooked chicken
Raw veggies
Fruit
Dumbbells (if there won't be a gym and if I'm not flying).  Bands or a TRX can also easily be packed.
Here's a quick 20-minute MetCon workout I often do while traveling!  All you need is a moderate set up dumbbells.
Set timer for 20 minutes and do as many rounds as possible (AMRAP)
Burpee
Push-up
Renegade Row (1 each arm)
Hammer Curl
Overhead Press
Do One Rep of each.
Then up-chain the push-up to 5 (add one push-up each round until you reach 5, then take it back to 1)
Then up-chain the renegade row to 5 (each arm alternating)
Then up-chain the hammer curl to 5
Then up-chain the overhead press to 5
Do you exercise when you travel?  Let me know in the comments below:)
If you missed my blog on Look Like You Lift, check it out
HERE!
Also, if you want MORE FREE tips and strategies on fitness, nutrition and mindset, get on my email list
HERE!