WHY #DUMBBELLDEFINED?
I have been in the health & fitness industry for over 20 years, and it wasn't until I became a mom, that I realized I needed a NEW WAY of working out!
Motherhood was a HUGE eye-opener for me in terms of finding balance (whatever that means!).  Juggling 3 kids, a husband, 2 dogs, family, friends and my own business, plus trying to stay fit and healthy myself was becoming overwhelming.  I wanted to find a Better Way to Do Fit, and that's when I created #DumbbellDefined.
#DumbbellDefined workouts are the EXACT workouts I created through my own personal journey of trying to stay lean while managing life! I wanted workouts that were efficient and didn't waste time, but still produced results!
THERE ARE 3 PROGRAMS TO CHOOSE FROM: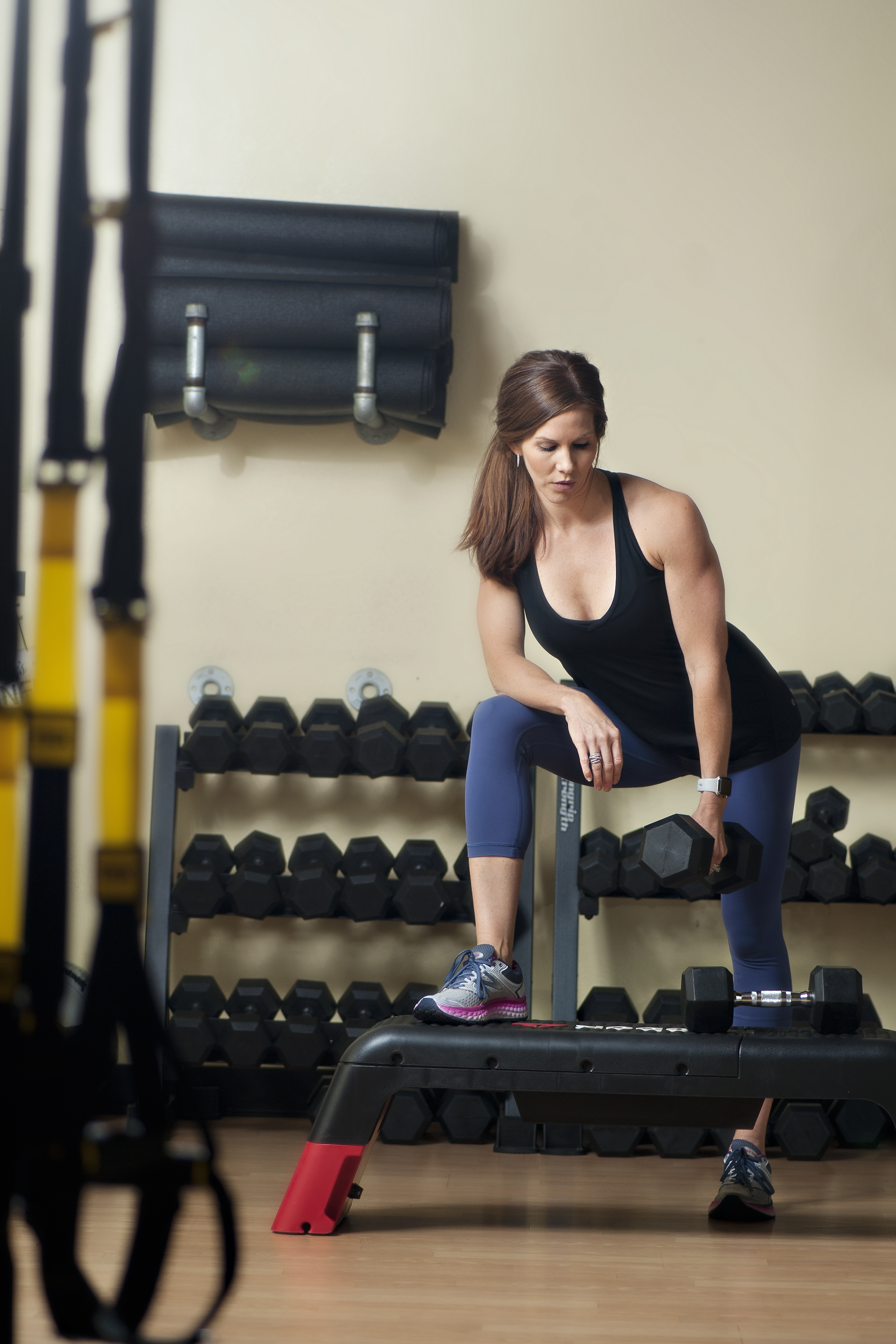 Over the years, I've found that I commonly hear these comments from women:
"I just don't have time to workout"
"I feel like I've worked out for so long, but my body just isn't changing"
"I just don't have the time to commit an hour a day to the gym"
"I need a workout routine that I can easily do from home"
"I need something that's going to keep me motivated"
"Carrie, how do I get arms like yours?"
These are just a few of the comments I've heard from clients, and they are what prompted me to create Dumbbell Defined.
I wanted to create an easy-to-follow program designed to get results in a fraction of the time.  A program that could be done in the gym or at home, and a program with a variety of workouts to keep you motivated, prevent boredom and get results!
I've been the Cardio-Queen and the over-exerciser, and I can tell you from researching the science and my personal experience with fitness, these workouts are meant to provide results. I can't wait for you to get started!
oxo, Carrie
READY TO GET STARTED?
CLICK A LINK TO READ MORE ABOUT EACH PROGRAM TO FIND OUT WHICH ONE IS RIGHT FOR YOU!
THE PROGRAMS:
The original DUMBBELL DEFINED PHYSIQUE program was designed for individuals who want to improve strength, gain muscle and get the lean look of someone who works out!
The DUMBBELL DEFINED FAT BURN SERIES is for individuals whose main focus is to shed unwanted fat without doing hours of cardio or exercise!  The goal is to do the RIGHT type of exercise to elicit the metabolic response needed to shed fat while balancing hormones to avoid metabolic damage!  These are shorter workouts to help you achieve a calorie deficit without impacting hunger, energy and cravings while you're focus is cutting!
Both are 9-week programs, and doing them back-to-back is great for someone who wants to get both LEAN & STRONG!  Click the links above to read all the details!
READY TO GET STARTED?
CLICK A LINK TO READ MORE ABOUT EACH PROGRAM TO FIND OUT WHICH ONE IS RIGHT FOR YOU!
WHO IS DUMBBELL DEFINED FOR?
It's for anyone who wants to look like they actually workout!
How long have you done the same old routine and spent hours in the gym to just look the same?  This program will give you the muscle definition you want to have a more defined physique in just 9 weeks!
It's for anyone who wants to get real results in less time!
If you're a mom, entrepreneur, traveler, or someone who just doesn't have a lot of time to work out (or just doesn't want to spend hours working out), then this program is for you!  No more hours of cardio or double days.  No more boring workouts that take an hour to complete.  All workouts can be done in 45 minutes or less!  This is a more effective way to get results in less time!
It's for anyone who doesn't want to be constrained by a box gym!
Do you travel?  Do you workout from home?  If you want to have the flexibility to workout anywhere with minimal equipment, this program will be perfect for you!  All you'll need is a couple sets of dumbbells and a bench!
It's for ALL fitness levels!
Whether you're new to exercise or a seasoned exerciser, all the workouts can be adjusted to get you results and challenge YOUR body!  Simply by adjusting the weight you use and using the Rest-Based Training principle with each workout.
WHO IS DUMBBELL DEFINED NOT FOR?
It's not for anyone look for a quick fix!
If you expect to get the results out of this program, you will need to dedicate 6 days a week to training hard.  If you're not willing or able to commit, you won't get the best results.
It's not for anyone who likes long training sessions!
If you're married to the idea that long workouts are the best, then this program isn't for you!  BUT, if you want high intensity workouts that will get results, then Dumbbell Defined has got you covered!
It's not for the cardio queens!
If hours of cardio is where you want to spend your time working out, then this program isn't for you!  The base of this program is the strength workouts and metabolic conditioning style workouts.  Short sprint sessions are sprinkled in to more effectively blast fat in less time!
It's not for those who like using lots of equipment
If you like to use lots of equipment, flip tires, carry sandbags, bounce on balls or use an other fancy equipment for your workouts, this isn't for you!  This program keeps it simple and effective to get you the ultimate results in less time with less equipment.
It's not for people who aren't willing to work hard!
If you don't like intensity when it comes to your workouts, then this isn't for you!  These workouts are challenging physically and mentally and are designed to get you results.  So if prefer easy to moderate intensity workouts, then I would suggest skipping this program.
It's not for those looking for a nutrition program
In this program, I provide basics about nutritional intake, because nutrition is part of any fitness regimen, BUT this is NOT a nutrition program.  The focus of Dumbbell Defined is on the workouts with a touch of nutrition education to help you achieve results.
FAQ
What equipment do I need?
You will need at least one set of dumbbells and a bench.
Weights should range from a moderate to heavy, and this is dependent on your fitness level.  I recommend having 2 sets of dumbbells, one heavier and one lighter.
Beginners: 10-15lbs
Intermediate:  15-30lbs.
Advanced: 20-40lbs.
Am I fit enough for this program? It sounds intense!
Yes, these workouts are intense, BUT can be modified for all fitness levels.  You have the ability to start with lighter dumbbells as you get conditioned and work your way to heavier weights as your strength increases. You will also be using the Rest-Based Training model, which allows you to rest/recover based on your own needs.
What if I don't know what an exercise is?
All exercises will come with a demonstration video for you to refer to.
What if I can't do an exercise?
If you cannot perform an exercise, you can modify the exercise to meet your needs.  If you cannot do the exercise with a modification, you can skip the exercise or insert another exercise of your choice.
What if I don't have 40 minutes to workout?
Physique 1.0 workouts done in their entirety are approximately 40-minutes.  If you don't have that much time, no problem!  Simply cut out the 10-minute sprint/cardio primer and start with the dumbbell workout.  You'll still get great results!
Fat Burn Series workouts are all shorter, and can easily be done in less time without adjustment.
Physique 2.0 workouts can be adjusted by altering sets completed and opting out of the "finisher."
What is the return policy?
30-Day Money Back Guarantee!  I know you'll LOVE this program and that you will definitely see a change, and I'm so confident that I'm willing to fully refund your purchase, just let me know what it was about the program that didn't work for you.  That's it!
READY TO GET STARTED?
CLICK A LINK TO READ MORE ABOUT EACH PROGRAM TO FIND OUT WHICH ONE IS RIGHT FOR YOU!