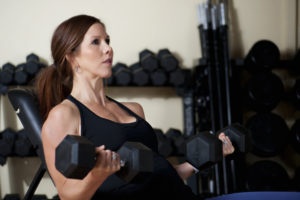 For 6 weeks I had over 200 women beta test #DumbbellDefined workouts!  These workouts are the EXACT workouts I put together to regain strength, definition and confidence after 3-sections!  I needed to create workouts that were quick, effective and that I could do from home or at my studio.  I wanted others to test out the program so I could create the perfect DIY physique program to launch to the public!
You see, if you're a mom, business owner, homemaker or anyone else out there with a LIFE, chances are you're like me. . . you don't have hours to waste away at the gym and you want to know that whatever you're doing will actually get you results!  Yes, we all want the health benefits that come along with regular exercise, but we also want to look and feel better on the inside AND on the outside!  There's no shame in that, and that's why I created this program!
The workouts I put together had to include some serious strength training, but also pack the powerful punch of some high heart rate moves to get the metabolism fired up and torch extra calories!  There was a time in my life I was addicted to cardio. . . more is better was the vicious cycle I was caught in!  I would tell myself:  If I sweat more, ran more, cycled more, then I'd feel better, be stronger and change my physique.  Oh how I was wrong. . . what's most embarrassing is that I knew the science, I knew what to do, BUT I was so addicted to doing MORE MORE MORE, that eventually I was AFRAID TO DO LESS!  Who can relate?
After 3 kids, I wanted a defined body, I wanted to feel strong, not weak and exhausted, and I wanted to do it in a FRACTION OF THE TIME!  INSERT:  #DumbbellDefined!
Over the past 2 years I've poured my heart and soul into creating these workouts!  Each workout is 40 minutes or less, and the best part is that all you need is a set of dumbbells and a bench!  How convenient is that?!  I wake up before my kids, get a quick sweat session in, and have my entire day FREE to chauffeur my kids around to all their activities (If you're a mom you know what I mean!).
And there's more. . . Another added bonus to short workouts is that you'll actually be LESS HUNGRY!  Yep, you read that right. . . you won't be HANGRY all the time, and fat loss will take LESS EFFORT!  It really doesn't get better than this!  Shorter workouts, less hunger and cravings, more energy. . . IT'S A WINNING COMBINATION FOR PHYSIQUE CHANGE!
This CART IS CURRENTLY CLOSED for this program, but stay tuned for future release and check out the website HERE!  You can get on the WAITLIST HERE and be the first to know when it opens for enrollment again!