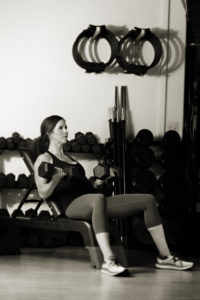 Step into any gym or fitness center these days and you'll see a ton of fancy equipment. . . tires, rings, sleds, balance equipment, cardio machines, and more!  While all of these serve a purpose when used properly, it can be completely overwhelming when you walk in to get in a workout and you don't know where to start or even what to do!
Just the other day I had a friend tell me that everyday she walks into the gym she has no clue what to do or where to start, so she tells her girlfriend to pick the exercises and she just follows along.  While I have to commend her for getting herself to the gym, I know that she could be getting much better results if she had proper direction and had a plan!
I see social media posts, trainers and people at the gym running through circuits of multiple exercises with no clear purpose or focus.  While these circuits may be hard and get the heart pumping, they are not designed to change the physique.  Instead they are a way to improve overall cardiovascular fitness and health, which are 2 great goals, BUT when you're going to the gym week-after-week, month-after-month and sometimes year-after-year, and your goal is to look different, these quick circuits aren't the ticket to a tighter, more muscular physique.
To change the physique you have to make each specific muscle group be under a significant load with each workout.  One set of biceps, followed by push-ups, followed by burpees, follows by walking lunges, etc. etc. etc. will definitely burn some calories and be challenging, but it's not going to truly change your overall physique.
Lifting heavy weights that are body-part specific is the way to change your body!  All the fancy equipment can be fun, and it can be a great addition to add variety and other elements to your workouts, BUT you have to be clear on your goals and know that many bootcamp style circuits or other training styles that are similar will not improve your lean mass enough to make a change in the body.
#DumbbellDefined  is a 9-week program designed to change your body!  With a combination of split-body part workouts, sprints and metcons, you will build muscle and blast fat for an improved physique.  These are the EXACT workouts I've done to rebuild my body after 3 c-sections.  I know you will LOVE these workouts!  They are for men & women and can be done from home with just a bench and dumbbells!  Get all the details HERE!
ENROLLMENT IS CURRENTLY CLOSED FOR THE PROGRAM, BUT YOU CAN GET ON THE WAITLIST TO BE THE FIRST TO KNOW WHEN IT OPENS!  CLICK HERE!