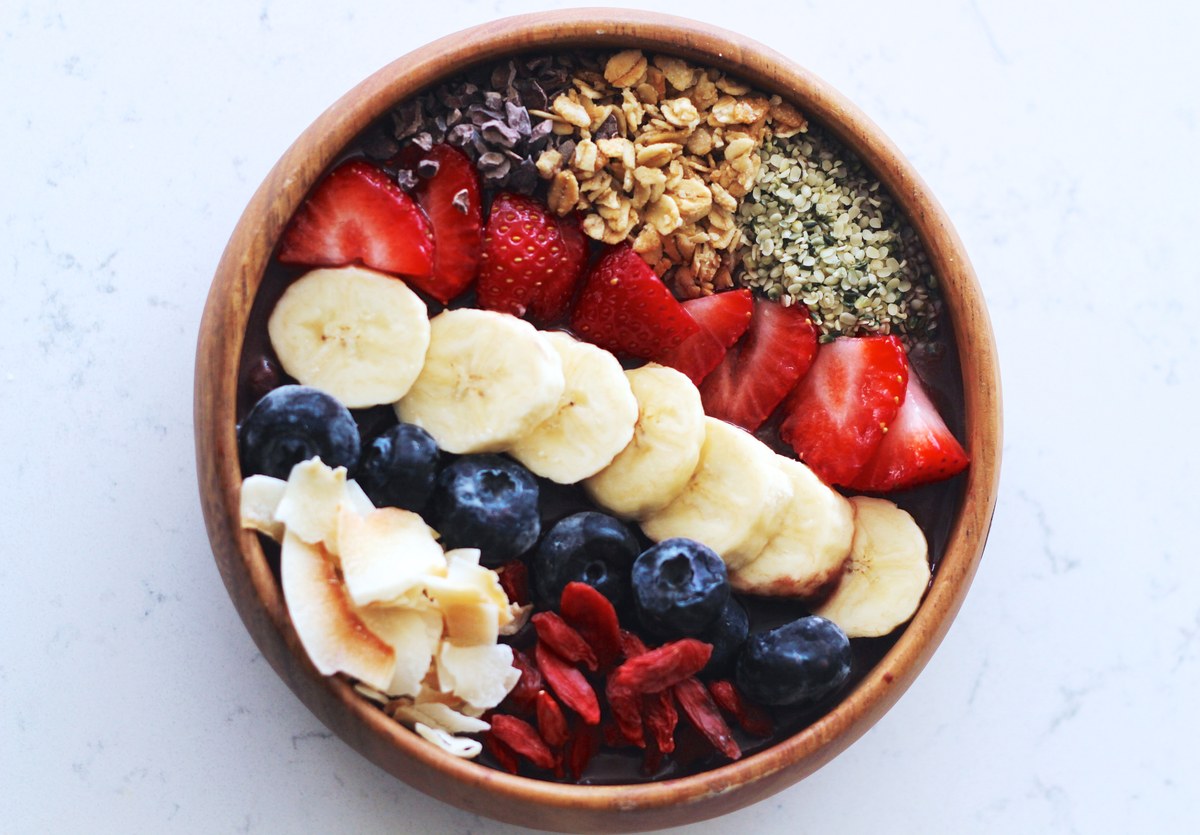 ACAI is a Brazilian berry that got its claim to fame several years ago for being the "most antioxidant fruit on earth."  WOW, SOUNDS AMAZING, RIGHT?
This berry has become part of the popular SUPERFOOD/ANTIOXIDANT ACAI BOWL, which you can now find at many "health food" establishments around the country! I mean if Oprah says eat it, then all the claims must be true right?  Well, don't make any assumptions. . .
Here's the deal. . . while the Acai berry does pack a punch when it comes to antioxidants, it's WAAAAAAY better to get all those antioxidants from a VARIETY OF FOODS, NOT JUST ONE!
So, what's the deal with the Acai Bowl??  They are super popular and the claims of all the health benefits are thrown around by health gurus and so-called "experts" all the time.  So should you grab for one next time you are on-the-go and need a healthy meal or treat?
Well, if you know me, you know that NOTHING IS OFF LIMITS WHEN IT COMES TO FOOD, BUT BEWARE!  IF YOUR GOAL IS FAT LOSS AND YOU REACH FOR THE ACAI BOWL MORE OFTEN THAN NOT, YOU MAY BE SABOTAGING YOUR OWN EFFORTS TO SHED UNWANTED BODY FAT!
I did a little research on the average macros of an Acai Bowl and while I knew they weren't all unicorns and rainbows, I was totally shocked at how high the sugar and calories were in most of them!
Jamba Juice Power Size Acai Bowl:  560 calories, 7 grams fat, 92 grams sugar!
Juice it Up Regular Size Acai Bowl:  340 calories, 8 grams fat, 60 grams sugar
Homemade "Low Calorie" Version from myeverydaytable.com:  389 calories, 13.4 grams fat, 42.7 grams sugar
While all the ingredients are considered "healthy," when you add the fat + sugar/starches + protein, you get a big CALORIE BOMB!
If your goal is fat loss, you should choose lower calorie foods that will balance hunger, energy and cravings.  Higher fat + sugar foods actually have an effect on fat storage and they are easy to overeat, and more often than not, they leave us having increased hunger and cravings the rest of the day!
If you LOVE an Acai Bowl, here's what I suggest. . . learn how to make a lower calorie/sugar version on your own at home and limit them to more of a treat than a regular staple in your diet.
If you dig this content, sign up for my newsletter to get more tips on fitness, nutrition and mindset! CLICK HERE!
Did you find this information insightful?  Leave me a comment below!  Are you team Acai or No??