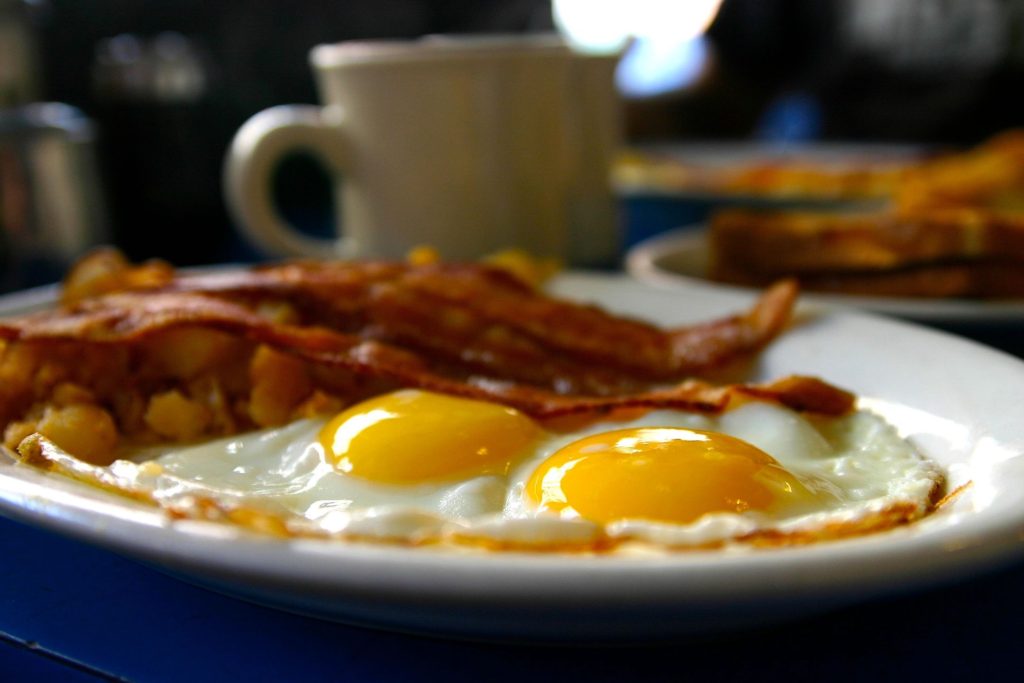 When a new client comes to me for help with fat loss, one of the first things we talk about is what barriers they've faced in past that have made weight loss unsustainable. Every person is different, and every story is different, but there are ALWAYS common themes!
One of those themes is this:
Eating healthy is boring, and I don't enjoy "diet" food (nor does my family), so I can't seem to stick to any diet long enough to lose weight and keep it off.
Here's what the diet industry has fooled the average person into thinking:
You need to eat "clean" to lose weight (i.e. eat broccoli, asparagus and chicken at all meals)
You need to avoid "XYZ" foods to lose weight (i.e. gluten, dairy, wheat, sugar, processed foods, etc.)
You need to eat 6 small meals a day.
THE LIST GOES ON!
I'm here to tell you. . . YOU DON'T NEED TO DO ANY OF THESE THINGS TO LOSE WEIGHT!
There's no food to blame for your weight! READ THAT OVER AND OVER UNTIL IT SINKS IN!
Basically, I'm saying you don't need to cut out any particular food or add meals to your day to get results! For the average person, simply EATING LESS OF WHAT YOU ALREADY EAT WILL GET YOU RESULTS!
BOOM! That's it! Stop over-complicating fat loss! You don't need to go Paleo, Keto, Vegan, drink celery, juice cleanse, etc. You don't need to eat out of Tupperware six times a day, and you don't have to cut out all the foods you love and eat asparagus all day!
Fat loss comes down to CALORIES IN vs. CALORIES OUT! Yep. . .that's all there is to it! Burn more calories than you take in and the weight will come off! It takes consistency and time, but I can promise you there's not short cut way that will last!
Just commit to making small habit changes each week, and they'll add up to BIG results over time. Here are some examples: Do you normally drink 3 sodas a day? Cut back to one or 2. Do you normally have 3 eggs + 4 pieces of bacon + toast and a glass or orange juice every morning? Cut back to just 1 egg with 2 egg whites, have a slice or two of bacon, half a piece of toast and maybe a half glass of OJ or sub in water. JUST TAKE LESS BITES!
And remember this, FAT LOSS ISN'T RELATED THE NUMBER OF TIMES YOU EAT IN A DAY OR WHEN YOU EAT! You heard me. . . you don't need to intermittent fast or squeeze in small meals/snacks all day! If 3 meals fits your schedule, then eat 3 meals. If you prefer smaller meals, go for it, BUT don't let any "expert" tell you that in order to get results you have to overhaul your life and eat "clean" all day long!
For those who are already eating healthy, who are lean and want to get even better results, you may have to fine tune things a bit more, such as meal timing with workouts, etc., BUT for the majority of people, simply cutting out a few bites at every meal and being mindful of what goes into your mouth will make all the difference!
SO YOU CAN DITCH THE MINDSET THAT YOU HAVE TO OVERHAUL YOUR DIET TO LOSE WEIGHT! YOU DON'T HAVE TO EAT SALAD AT EVERY MEAL! YOU DON'T HAVE TO CUT OUT THE FOODS YOU LOVE. . . YOU JUST HAVE TO EAT LESS!
For more tips, be sure to join my newsletter by subscribing HERE!